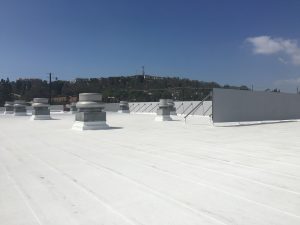 All roofs are different and all roofing systems are designed for different architecture. The key is to match the correct roof system to the actual roof structure and design. When matched up properly and installed correctly a new roof with proper maintenance should last 20-30 years. We will look at all aspects of the property as well as consider the client's budget when specifying a new roof system. At Rite-Way Roof we are not partial to any particular roof system, we install them all and "WE LOVE FLAT ROOFS".`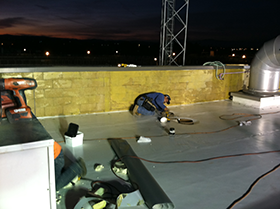 They say it never rains in southern California. Unfortunately that's not always the case. When the need arises and property is being damaged by sudden roof leaks, you need a roofing company that can respond with a knowledgeable and competent crew. If you are a client of Rite-way Roof you can count on that crew.
The reality is that most roof leaks start out small and progressively get worse over time. Because we do not experience a lot of rain every year these leaks are sometimes ignored, after all "it only leaks when it's raining". The truth is the ABSOLUTE BEST TIME TO REPAIR A ROOF IS WHEN THE ROOF IS DRY.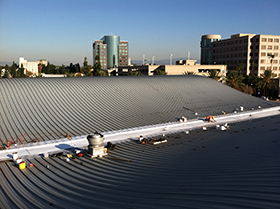 When our clients ask us how long a particular roof should last, the answer is "how much effort do you want to put into the maintenance and up-keep of the investment?" All roofs are built differently and carry a different price tag, but their longevity comes down to a simple common denominator… "care and maintenance". Long-term manufacturers' warranties mean nothing without proper maintenance. And that's where we can help.
Whether we were the original installers or not, if your roof is relatively new or 15 to 20 years old, we can help protect your investment. Our clients have peace of mind in knowing that Rite-Way Roof will be there when needed  for roof repairs and routine maintenance.